The pinacle of AMG's tonearm development with improved higher mass bearing for maximum sonic performance and hand adjustable fine-tuning of all setup parameters.
Higher mass bearing combined with 12" arm tube length creates perfect combination of reduced tracking error and resonance stability, improving upon the already excellent performance of the 12J2.
A complete set of micrometer level adjustments built in allow for the
tool-free fine tuning of all critical setup parameters including VTA, azimuth, anti-skate, overhang, and tracking force.
Perfect combination of form and function with impressive build quality and tangible manufacturing precision.
Assembled by hand as a precision-engineered single piece, precisely measured and comprehensively tested to the highest standards.
Instrumentation :
Ultra High-precision adjustment by means of built-in instruments for all relevant adjustment parameters. Tool-free adjustment is possible using in-house manufactured knurled screws with ultra fine threads for easy adjustability by hand.
The magnetic anti-skating system :
Highly accurate and adjustable magnetic anti-skating mechanism for perfectly centered and distortion-free groove tracking. scanning.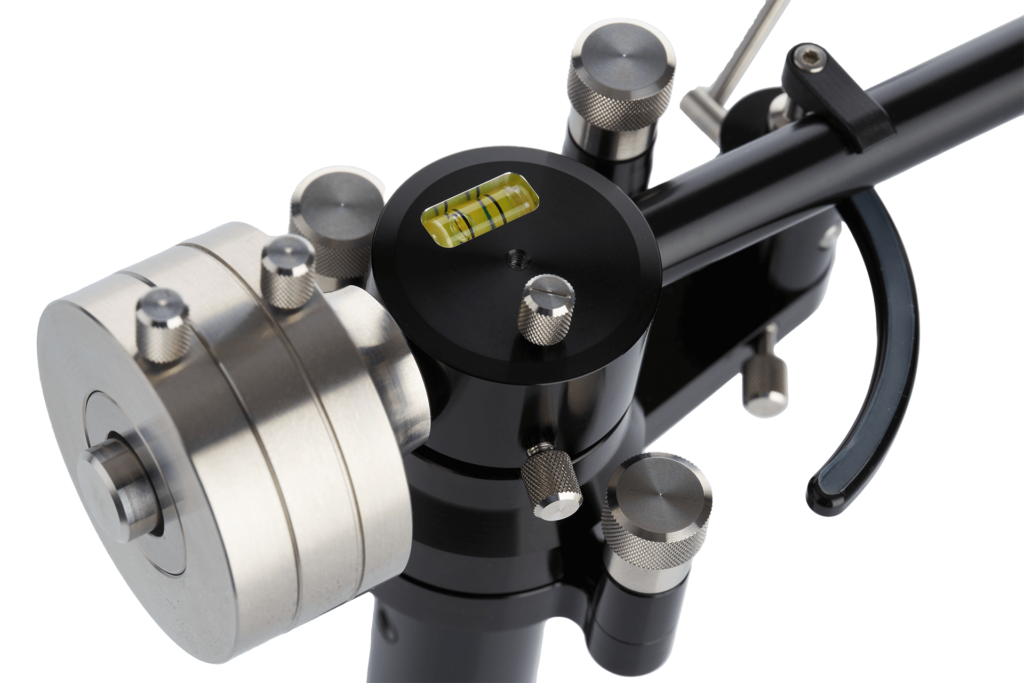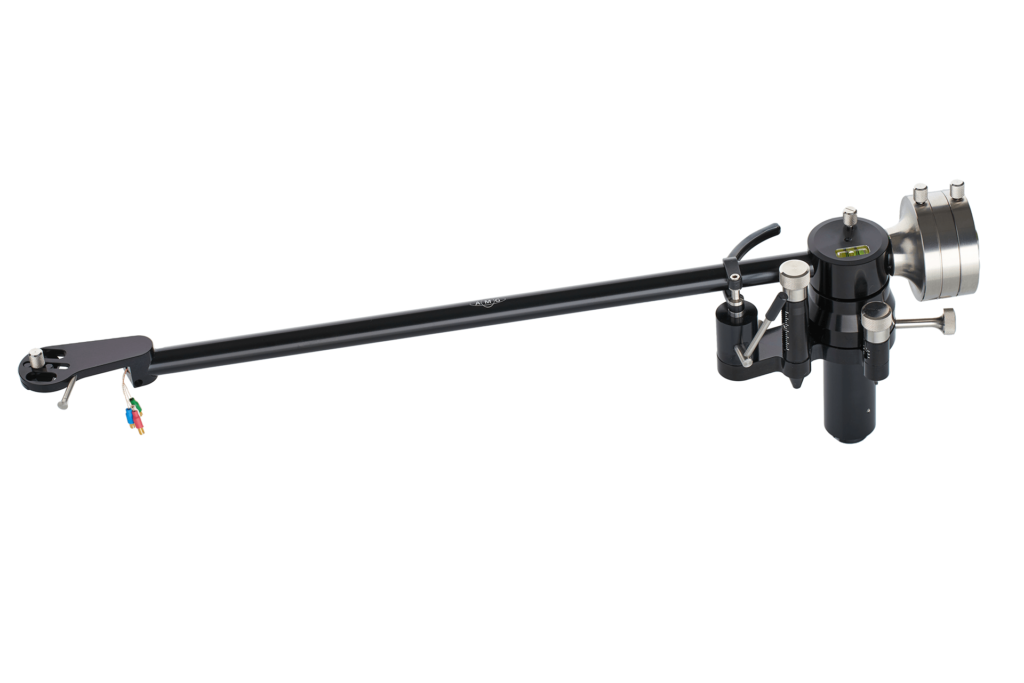 The VTA :
Precise fine tuning and repeatable adjustment of tonearm height by means of integrated bubble level and vertical threaded adjustment rod.
The internal wiring :
Gold-plated plug connections and hand made wiring with special winding pattern to cancel magnetic field resonances, resulting in the highest acoustic transparency, detail, and presence.
The integrated azimuth adjustment :
Precise adjustment of aziumth at the bearing allows for optimization of channel performance while allowing a fully rigid connection at the headshell, for unparalleled sonic imaging.
The arm tube :
Precisely calculated ratio of wand diameter / length effective length matched with specifications of the high-grade aluminum arm material ensures the lowest possible resonance behavior.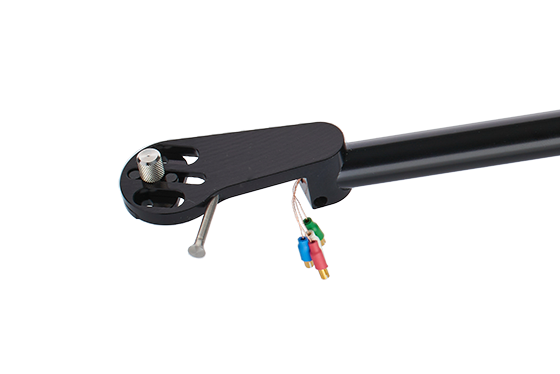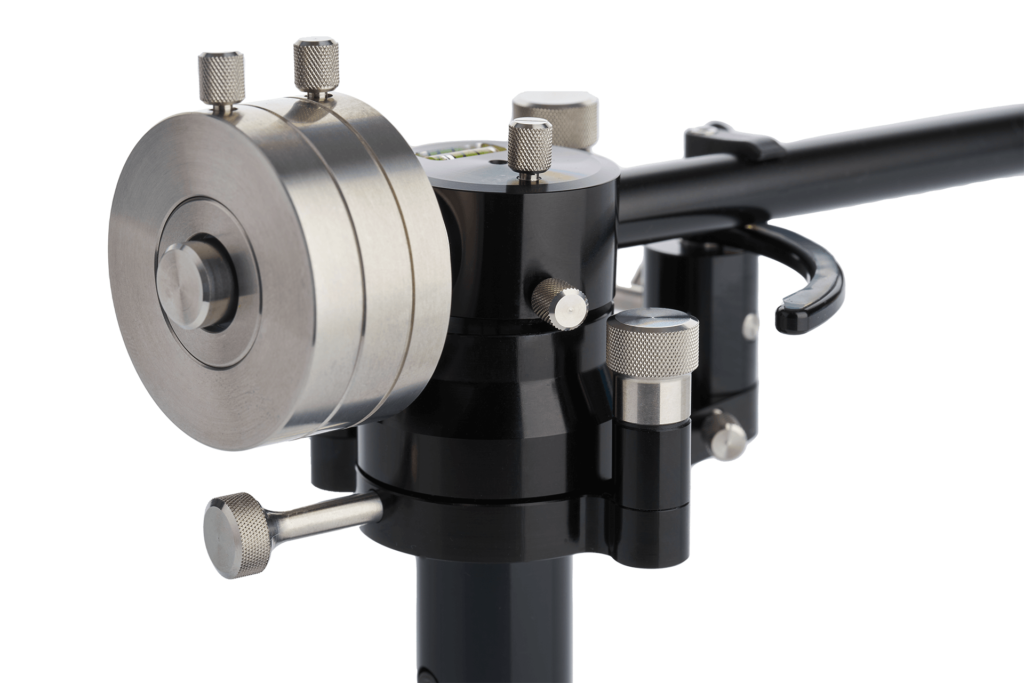 The counterweight as the basis of dynamics :
Two-piece counterweight for perfect weight adjustment. Significantly higher dynamics and sonic precision through optimized force / mass distribution throughout the tonearm system. The kinetic energy remains in the cartridge and guarantees vibrational isolation, resulting in excellent control and clarity of bass response.
| | |
| --- | --- |
| EFFECTIVE LENGTH | 304,8 mm |
| Distance FROM PIVOT TO TURNTABLE CENTER | 291,4 mm |
| OVERHANG | 13,4 mm |
| Offset Angle | 17,89 ° |
| Effective Mass | 12,2 g |
| Null points (inner) | 66,04 mm |
| Null points (outer) | 120,9 mm |
| Bore size for mounting bushing | |
| WITHOUT ADAPTER SOCKET | 20 mm |
| AMG VIELLA ADAPTER SOCKET | 25 mm |
| AMG VIELLA FORTE ADAPTER SOCKET | 30 mm |
| ADAPTER SOCKETS FOR EXTERNAL DRIVES | Divers |
| BOREHOLE CIRCLE DIAMETER FOR SCREWS | 30 / 48 mm |
INTERESTED IN THIS PRODUCT?